We last mentioned the "bull market spin" one month ago when the FAANGs finally took a break. Instead of cranking out new highs every single day, these popular tech names consolidated and moved lower.
Of course, we know that stocks can't rocket higher every single day without encountering some pullbacks and corrections along the way. The FAANG lunchbreak was long overdue. But this wasn't the end of the road for Google, Facebook and the rest of the mega-cap tech darlings. Speculators can rejoice again – they're back at new highs!
We were carefully monitoring the brief pullback in mega-cap tech stocks for an important reason…
While 2017's hottest stocks cooled off, a hidden breakout began to reveal itself.
Four weeks later, this scorching trade is off to the races, proving that investors have an appetite for stocks other than Apple and Amazon. If all goes well, this industry could very well top the charts as the best performing trade of the third and fourth quarters.
I'm talking about biotech stocks.
"Frankly, I love this biotech breakout," I told you back in June when these forgotten stocks first showed signs of life. "It's the first group of stocks that are starting to gain serious momentum since the FAANGs took over the market at the very beginning of the year… That's a good thing."
The outperformance we're seeing in biotechs is telling. Not only have these stocks remained vulnerable to political attack related to the drug pricing scandals that made headlines last year – they've also had to dig out of a nasty bear market.
Remember, even after bouncing off its winter lows, the group underperformed every other major sector on the market in 2016. Last year, the Health Care Select Sector SPDR (NYSE:XLV) had registered its first annual loss since 2008.
But check out the recent performance of the iShares Nasdaq Biotechnology ETF (NASDAQ:IBB):
Rickards' Reaction: A Model For Predicting Financial Collapse
Jim Rickards' reveals the only model you need to safe guard your wealth from the next financial crisis. In this 5-part exclusive framework a former Wall Street and intelligence community insider breaks down his analysis into a model to warm of impending financial collapse. The model is designed to offer the easiest and fastest way to apply hard facts, science and good sound analysis. Sign up for the Daily Reckoning e-letter today and receive your FREE report.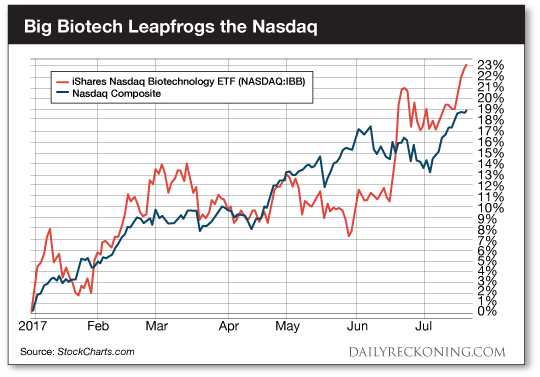 The June breakout helped the big biotech ETF pass the Nasdaq Composite. It's up more than 23% year-to-date as of yesterday, compared to a gain of almost 19% for the Nasdaq. We're seeing the breakout extend its gains this week as IBB posts new highs.
Meanwhile, the smaller, more explosive SPDR S&P Biotech ETF (NYSE:XBI) is up more than 37% so far this year. Even the pickiest trader can't complain about a move this powerful.
[Editor's note: Speaking of big breakouts, you need to see the explosive biotech companies my colleague and biotech maven Ray Blanco just unearthed. Click here to check out this insane story for yourself…]
Once again, the market demonstrates how critical it is to have your trading dollars in the correct stocks and sectors. The first half of 2017 would have been a total bust for our trading portfolio if we tried to grab cratering IPOs instead of riding the tech stock boom. And it would be a huge mistake to ignore biotech stocks as we barrel through earnings season into the meat of third-quarter trading…
That's why we've maintained our SPDR S&P Biotech ETF (NYSE:XBI) position for most of 2017. It's also why we added Celgene Corp. (NASDAQ:CELG)  to our arsenal last month as the biotech breakout extended…
Now, the market's giving you another chance to add a biotechs to your radar. With stocks in this sector exploding left and right, you'd be crazy not to grab onto the breakout this week…
Sincerely,
Greg Guenthner
for The Daily Reckoning
Ed. Note: Make money in ANY market — sign up for my Rude Awakening e-letter, for FREE, right here. Never miss another opportunity to make hidden profits. Click here nowto sign up for FREE.