At the beginning of the month, I made you this promise:
"If you want to double your money over the next year, it's time for you to buy homebuilder stocks."
And I'm saying it even louder today. I've got even more evidence to prove it, which you'll see in a second…
I don't want to beat you over the head with the housing theme, but remember, it is one of our four major trends of the year. I think it's that big. Hey, just trying to make you some dough, man.
Yes, I know you might still have PTSD from one of the worst real estate disasters in history. And I know buying homebuilders—which have done zilch for close to a decade now—might seem about as smart as snoozing on the commuter tracks during rush hour. But hear me out…
The tide is already turning in favor of the homebuilder trade.
No, homebuilders aren't scorching the major averages yet this year. In fact, they've fallen behind so far in 2015. So why in blazes do I still love this trade?
First, let's check out some the downright awful housing market data you keep trying to stick in my grill: First-time home buyers have sunk to their lowest level in 30 years… Mortgages applications are down… Home prices are still too damn high… Interest rates have to nowhere to go but up…
You don't think I know all that? C'mon. I want you to take a mental sledgehammer to these ideas. All of this stuff is just thinking in reverse. With homebuilder sentiment down the toilet, no one can see the signs pointing to a major recovery.
So let me point out one of the new clues for you: construction hiring is actually on the mend after years of decline. Contractors added 48,000 jobs in December, according to the latest numbers. Full-year numbers were also better than expected, clocking in at 9-year highs. Why is no one talking about that?
Need more proof?
"Builders broke ground in December on the most single-family homes in almost seven years," Bloomberg reports, "propelling an unexpectedly large gain in U.S. housing starts that signals construction will contribute more to economic growth in 2015."
Heck, even Bloomberg can get something right on occasion.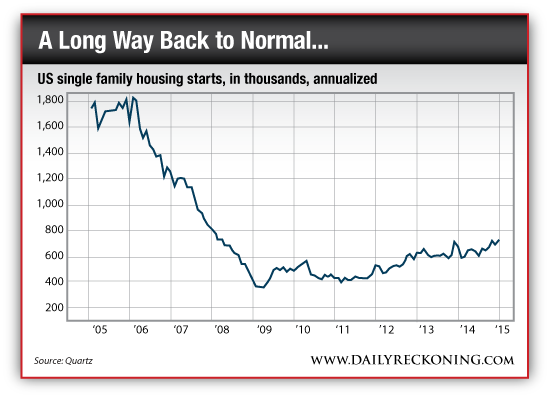 Again, everyone seems blind to the fact that the homebuilder outlook is only getting rosier.
As Quartz reports, "Besides wages, one of the few missing ingredients in the US economic recovery has been housing, but things there are starting to change. Granted, we're nowhere near levels of home building seen during the boom. But given how that ended, that's probably a good thing."
Listen, we don't need another insanity-driven, speculative bubble to make money on this homebuilder trade. All we're looking for is a return to "normal". And by the time expectations catch up to reality, you'll have made your money…
Regards,
Greg Guenthner
for The Daily Reckoning
P.S. Listen, we don't need another insanity-driven, speculative bubble to make money on this homebuilder trade. All we're looking for is a return to "normal". If you want to cash in on the biggest profits this market has to offer, sign up for my Rude Awakening e-letter, for FREE, right here. Stop missing out. Click here now to sign up for FREE.
About the Source
The Daily Reckoning is a free newsletter which has been published for more than 10 years by Agora Financial LLC. They accurately predicted the Internet bubble, housing bubble and credit crisis of '08. With enough notice for their readers to prepare and protect themselves.
If you haven't signed up for Daily Reckoning yet, we urge you to do so right here. And don't worry. It's 100% free – no credit card is required.