The machines are taking our jobs.
Accounting firm PwC estimates that 38% of the jobs in the U.S. could be at risk of automation as robotics and artificial intelligence continue to develop rapidly.
Most of the jobs are in industries like retail and manufacturing.
Fast food chains like McDonald's can't wait to take the axe to human workers in their restaurants.
Just maybe not quite like this…
The same goes for automakers and other manufacturers. More assembly line robots are coming to a factory near you.
But what you don't hear a lot about is white collar jobs getting replaced by machines.
That doesn't mean it's not happening. It just means nobody's talking about it…
Fact is, there are some things that robots can do better than humans – and that includes analyzing mountains of trading data to identify patterns and anomalies that would be invisible to the human eye.
Agora Financial's resident quant Jonas Elmerraji helps us stay in-the-know on all these high-tech developments…
Jonas spent the last five years building a quantitative trading platform called Archimedes. While Archimedes might not look like the Terminator – it's a bunch of computer servers and lots of code located at a secure off-site facility – it's already proven to be a hell of a powerful machine.
Just last Friday, I told you that we were officially ending the top-secret beta test driven by Archimedes and the proprietary K-Sign indicator that runs on it.
The results have been astounding. Out of seven trades generated by Archimedes over the course of the beta test, we booked gains in all seven. Seven trades, seven wins.
With computer-tested models in charge, there's no guesswork involved. The numbers point us directly to the best-performing stocks on the market during any given timeframe…
But it gets even crazier.
I just had to share this incredible update with you on a stock that Jonas' system flagged for us back in June…
This is the chart of Apple that I published here in the Rude Awakening on June 15.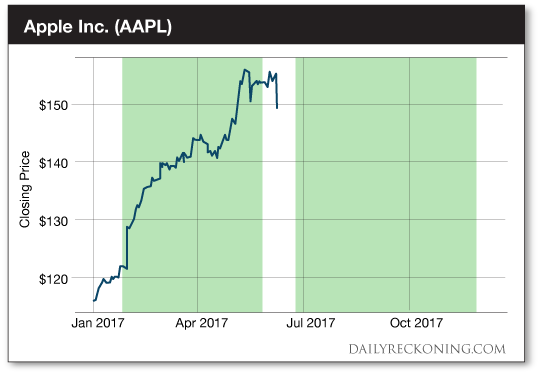 The green windows on the chart indicate the time periods when Archimedes has spotted a profit window – in other words, the computer said that you want to own Apple during the green windows on the chart this year.
Sure enough, the first window ended up capturing Apple's initial up-move this year almost perfectly.
That's not hard to do in hind-sight. But it's impressive when you consider that the system identified the profit window a full year before it began.
By the time we got the chance to see the chart, this tech behemoth was cooling off following that massive rally. Most investors expected a precipitous drop from shares this summer, following the upswing.
But Jonas' system was on the verge of triggering another K-Sign buy signal in Apple.
In other words, Archimedes had decided the Apple was statistically likely to rally at the start of that second green "window" on the chart above.
You're not going to believe how things have progressed since then.
Here's an updated Apple chart:
After tumbling hard at the end of the first buy window, Apple is charging higher again, almost like clockwork.
"Hopefully, Archimedes puts me out of a job trading stocks," says Jonas. "Humans make mistakes. We're subject to bias and emotion. Up until recently, machines have lacked the pattern recognition capabilities of people – but with recent advances in machine learning and artificial intelligence, could soon be changing. And Archimedes' track record is proving that it's a potentially profitable change."
That's one way to let a machine take your job…
Of course, if you've been reading about the K-Sign indicator in these pages lately, then the amazing track record we've participated in during the top-secret beta test shouldn't be a surprise.
After all, Jonas' testing showed that Archimedes could pick stocks with 93.5% accuracy. The real world results we're getting are right in line with that.
And the next buy signal from Archimedes is right around the corner – it triggers on August 1.
(Remember, the system can flag K-Sign patterns a full year in advance – no guessing games!)
If you want to learn how it all works before then, I'd urge you to watch this presentation immediately.
Sincerely,